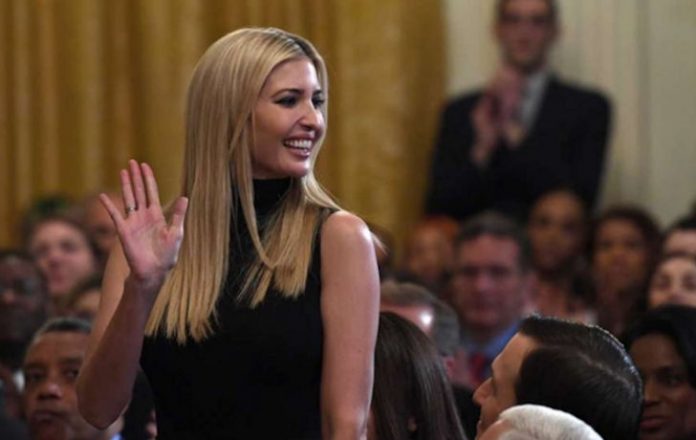 [ Modifié / Publié sur Ivorian.Net il y a
Ivanka Trump is travelling to Ethiopia and Cote d'Ivoire his month to promote her global women's economic empowerment initiative. The Women's Global Development and Prosperity Initiative, which was announced by the the Trump administration in early February, aims to help 50 million women in the developing world get ahead economically by 2025. The administration has dedicated £38 million to the initiative, though that figure could go up to £225 million allocated for 10 US government agencies in the next years.
"I am excited to travel to Africa and advance the United States' Women's Global Development and Prosperity initiative. The White House, and the whole of US government, stands firmly behind the goal of economically empowering 50 million women through W-GDP by 2025 and in so doing, championing American values of freedom and equality around the world," Ivanka Trump said in a statement provided to Refinery29. She added: "This mission is crucial to the peace and stability of nations and is achievable if we focus our collaborative efforts on job training, entrepreneurship, and breaking down the legal and cultural barriers that restrict women from achieving their full economic potential."
Women's economic empowerment has been centrepiece of Ivanka's White House portfolio since she officially joined her father's administration two years ago, but advocates have wondered if these initiatives are enough. Her trip follows the Trump administration's decision to expand its anti-choice Mexico City Policy to include foreign non-governmental organisations (NGOs) that support abortion providers. The Reagan-era policy, best known as the global gag rule, already blocks international organisations that offer or even discuss abortion care from receiving federal funding. "American taxpayer dollars will not be used to underwrite abortions," Secretary of State Mike Pompeo said after announcing the changes last week. (The 1977 Hyde Amendment already blocks the use of federal funds to pay for abortions at home and abroad.)
Advocates say the global gag rule is at odds with the women's economic empowerment programs championed by Ivanka. The rule, they argue, forces health providers to choose between not offering abortions as part of their reproductive health care offerings or be denied funding that goes to other crucial services such as birth control, STIs testing, and prenatal care.
"Access to reproductive health services is critical for women's labor force participation and it's critical for the type of labor participation, their ability to get good jobs and leave the informal economy," Sarah Gammage, senior director for Gender, Economic Empowerment, and Livelihoods at the International Center for Research on Women (ICRW), told Refinery29. "The failure to support comprehensive reproductive health care programming, and [any policy] that reduces the number of providers engaged in that, will have a direct effect on women's economic empowerment and women's ability to work."
There is an obvious disconnect between the Trump administration's anti-abortion crusade globally and Ivanka's desire to break down the "barriers that restrict women from achieving their full economic potential." According to the ICRW, research estimates that "each additional child reduced women's labor force participation by 5 to 10 percentage points during their prime working years (age 20-44)." If providers lose funding over the decision to provide and offer referrals for abortion care, that would impact their capacity to offer birth control. But if they decide to stop offering abortions, that would impact women who want to terminate their pregnancies in a safe, legal environment. Both options hurt women who want to be able to decide when and if to have children. "Without comprehensive reproductive health services — including contraception and safe, legal abortion — women's economic choices remain constrained," Gammage said. "If you can't control your fertility, you can't control your ability to earn and learn, and your ability to care for your family is greatly limited."
According to the White House, Ivanka's schedule includes meetings with political leaders, female entrepreneurs, and other power players and site visits in both countries plus she'll be attending a summit dedicated to the topic of women's economic empowerment in Cote d'Ivoire t, hosted by the World Bank Group. She will be travelling with Mark Green, administrator of the US Agency for International Development (USAID), an agency playing an integral part in the initiative; David Bohigian, acting president of the Overseas Private Investment Corporation; and Kristalina Georgieva, interim president of the World Bank Group.
Ambassade de Côte d'Ivoire
Washington, DC Etats Unis